Looking to improve student performance on your math and science STAAR tests and the TELPAS assessments in listening, speaking, reading, and writing? You've come to the right place!
STAAR: Math and Science
Speak Agent's Math+Language and Science+Language programs support all learners taking the STAAR® Mathematics (grades 3 to 8), Science (grades 5 & 8), and EOC assessments for Algebra I and Biology. Our programs were developed specifically for Texas, with every unit aligned to both grade-level TEKS and STAAR-relevant vocabulary.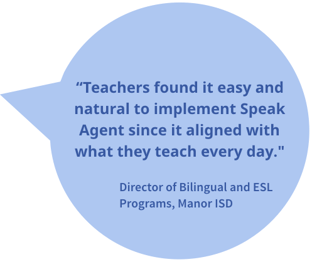 In fact, a full-year study at Manor ISD, Texas (sponsored by the National Science Foundation) found that a 30 minute per week dosage of Speak Agent tripled the rate of STEM concept and STAAR vocabulary acquisition.
Read the Manor ISD case study here >
See the middle school math results here >
ELPS and TELPAS
Speak Agent's Math+Language and Science+Language programs were developed specifically for Texas, with every unit aligned to grade-level TEKS. Both programs benefit ELs from Beginning to Advanced High levels.
Listening and Speaking
English learners use Speak Agent to acquire new STEM vocabulary and to practice listening and speaking in a low-risk environment.
Provides practice speaking in English at the word, sentence, and discourse level using STEM content vocabulary from TEKS curriculum resources.
Models use of academic language when speaking throughout activities that build your ELs' understanding of grade-level STEM content.
Strategically uses read-alouds of academic texts to connect spoken language with written text.
Records student voices in a digital portfolio for self-correction and corrective feedback.
Includes EL learning supports and scaffolds that guide students toward success.
Reading and Writing
Every Speak Agent digital lesson prepares your ELs for success on TELPAS reading and writing assessments.
Content that is 100% TEKS aligned.
Leveled texts that fit seamlessly with your math and science curriculum and grade-level content knowledge.
Activities to build foundational reading skills such as (1) word recognition and decoding, (2) vocabulary, (3) morphological awareness, (4) sentence processing and formation, and reading efficiency to develop comprehension.
Type 1, 2, and 3 prompts, as well as open-ended writing opportunities with immediate feedback and comparison against writing models.
36 research-based STEM reading and writing strategies with demonstrated efficacy for ELs.

Deep Student Engagement
With its easy-to-use interface designed for English learners, Speak Agent's Math+Language and Science+Language programs can be used independently by students or used in whole class or small group instruction, based on your needs.

Here's what 2,500 middle school students said about our Math+Language and Science+Language programs:

Here's what Texas STEM teachers are saying about their observations of student engagement:
"My kids love it! They see it as a game, but they are still learning!"

"For students who are behind academically...they get really engaged and don't want to stop!"

"They are learning and sharing, telling stories and facts."

"They're asking more questions, like what does a volcanic eruption mean..."
Comprehensive Reporting and Formative Assessment
You don't need to wait until the TELPAS testing window to find out how your students are doing. Speak Agent collects real-time data on student performance, speaking and writing samples, STEM misconceptions, and vocabulary acquisition all year long. Teachers, co-teachers, specialists, coaches, and school leaders can all collaborate to monitor student progress and provide target interventions with our reporting suite and differentiated instruction tools. It's easy to use and saves your teachers time!