Federal Funding, ESSER, and ESSA Evidence
ESSA Level 2 Evidence
Study Data Supporting "Moderate" Level 2 Evidence
Speak Agent meets the "moderate" evidence criteria, based on the following findings:
Level 2 Criterion
Level 2 Evidence
How Speak Agent Aligns to the Criterion
Study Design
Meets

A quasi-experimental design (QED) was used in the two main bodies of research on Speak Agent, as detailed on this webpage:

1. A total of 24,180 Diverse, Title I, and Multilingual Learners in 1,597 class sections at PGCPS had access to Speak Agent all school year (SY21-22), with varying amounts of usage based on teacher and student choice. Multivariate regression analysis (both cross-sectional and time series) was used to determine the independent effect of Speak Agent usage on both Math and English Language Proficiency outcomes, as measured by third-party assessment instruments.

2. Science classes (85% ELL/MLL) were randomly assigned to either the treatment or control condition by an independent evaluator, Rockman et al. The control group received standard instruction. The treatment replaced 30 minutes/week with Speak Agent. The full-year (SY17-18), two-phase study was sponsored by the National Science Foundation. Two follow-on studies reproduced the results.

Significant Favorable Effects
Meets

1. Diverse, Title I, and Multilingual Learners using Speak Agent in the LEANLAB study were found, on average, to increase Math scores by an additional 1.0% per each Speak Agent module completed (N=46,929) and by 1.37 points on the WIDA ACCESS overall scale score (N=5,361) per each Speak Agent module completed.

2. Multilingual Learners using Speak Agent in the NSF study significantly outperformed the control group (by 210%) using an independently designed test of academic STEM concepts. Follow-on studies found similar effect sizes.

No Significant Unfavorable Effects

Meets
No statistically significant unfavorable effects have been observed to date in any Speak Agent study.

Multi-Site Sample and Overlap

Meets

Speak Agent efficacy data were collected from 92 schools across three states in four separate studies with more than 24,000 students in grades 2-8.
Federal Funding Sources
ESSER Appropriate Uses
The Coronavirus Response & Relief Supplemental Appropriations Act of 2021 (CRRSA Act) and the American Rescue Plan provide additional funds for specific types of activities. Speak Agent is eligible for the following appropriate uses because of its Level 2 ESSA evidence and logic model:

Any activity authorized by ESEA, IDEA, or ESSER-1, ESSER-2, or ESSER-3.

Addressing unfinished COVID learning among students, including low-income students, students with disabilities, English learners, racial and ethnic minorities, students experiencing homelessness, and children in foster care, of the local educational agency, including by implementing evidence-based activities to meet the comprehensive needs of students.

Activities that address the unique needs of multilingual learners, low-income students, children with disabilities, racial and ethnic minorities, and other marginalized learner populations.

Planning and implementing activities related to summer learning and supplemental afterschool programs, including providing classroom instruction or online learning during the summer months and addressing the needs of multilingual learners, low-income students, students with disabilities, migrant students, and other marginalized learners.

Providing school leaders with the resources necessary to address school needs.

Planning for and coordinating services during long-term closures.

Purchasing educational technology that aids in regular and substantive educational interactions between students and their classroom teachers.




Title I
Title I, Part A provides grants to districts and schools with high numbers or percentages of low-income families to help ensure that all children meet academic standards. Title I can fund Speak Agent as a supplemental program/intervention consisting of instructional materials, technology, and professional development.
Title III
Title III, Part A provides grants to districts and schools (via states) to supplement programs for students with Limited English Proficiency (LEP) such as English Learners. Schools are expected to hold LEP/ELL students to the same state standards as those required of all students. Title III can fund evidence-based education technology solutions like Speak Agent and related services for LEP/ELL students.
SSAE
Student Support and Academic Enrichment (SSAE) is a Title IV program distributed to districts and schools that receive Title I funds. It can be used to support STEM instruction, health and safety programs, or technology enhancements such as blended learning programs, software, digital resources, or professional development. Speak Agent could either fall under the "Well-Rounded Education Activities" (e.g., STEM) or "Technology" depending on your program design.
Sustaining Funding Beyond ESSER
How Long Can ESSER Funding Be Used?
That depends on whether you are using ESSER-1, ESSER-2, or ESSER-3 funds: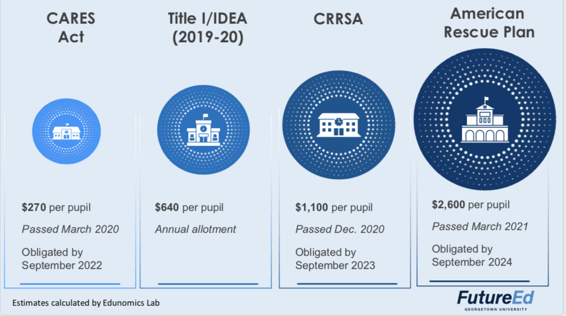 Remember that obligating funds does not necessarily mean that the funds must be paid by that time.
How Do I Sustain This After ESSER Expires?
This is a critical question! With Speak Agent, you have many options:
First, now is a good time to use ESSER funds make upfront investments such as Curriculum Mapping and Alignment or Custom Content Development. These are non-recurring costs, so if you implement these services now with ESSER grants, you will not need to bear these expenses down the road until you adopt a new curriculum.
Second, Speak Agent offers multi-year contracts at current pricing, which also provides inflation protection.
Third, federal title programs continue to grow and will be available for those programs that you find make the most impact:
Title III funds for multilingual learners.
Title I funds for schools and learners identified as Title I.
Title II funds for the professional development plans offered by Speak Agent.
Lastly, ESSER gives you a multi-year window to try new programs. Not all will produce the desired outcomes. You may not be able to maintain all of these programs indefinitely, so setting clear goals and measures upfront will be critical to supporting your future decision making. Set up accountability mechanisms now and communicate them with both your internal stakeholders and external partners so that there is a shared understanding of how success is defined. Speak Agent's Strategic Blueprint process can help you identify clear goals and measures. Please contact us if we can share this free resource with you.