Welcome to our teacher spotlight room! Here, we'll question our MVP teachers about all of the exceptional work they've been doing to support their students' academic language development with Speak Agent.
Michael Conticelli
4th and 5th Grade math & science TEacher | Lee County Schools, Florida
Learn more about Lee County Schools' successful partnership with Speak Agent here!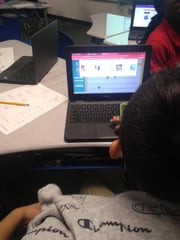 Q: What is your favorite thing about being a teacher?
A: My favorite thing about teaching is watching my students grow, both academically and emotionally. They start the year as one person and leave differently; they have grown as a student and a person. Knowing that I played a part in those changes, is what makes teaching so gratifying for me.
Q: What is your favorite thing about Speak Agent?
A: My favorite thing about Speak Agent is the level of engagement and excitement it generates in my students. Many of them literally ask me if they can do their lessons, as soon as we transition to Science!
Q: What improvements in student outcomes have you seen since implementing Speak Agent?
A: The biggest improvement in learning outcomes I have seen in my students since implementing Speak Agent is a definite boost in their academic vocabulary. This translates into a better understanding of the concepts because they have a better understanding of the vocabulary. Often I assign the Speak Agent lesson prior to introducing a new science concept. The repeated exposure to the vocabulary greatly increases comprehension of content learning and provides prior knowledge for when we engage in the lesson.
Read Also: