Curriculum Mapping & Alignment
You don't have to adjust your scope and sequence to fit Speak Agent. We adjust to fit yours!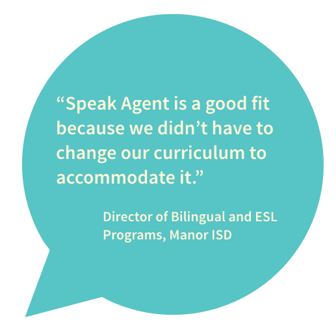 We Tailor Our Program to You—Because It Works
It is established learning science that the efficacy of digital instruction depends upon close alignment to the curriculum (Cassady, Smith, & Thomas, 2018). Academic language learning requires repeated exposure through oral and written resources in multiple contexts mapped to the classroom curriculum (Peregoy & Boyle, 2013).
And that close mapping is exactly what you get with Speak Agent.
Our curriculum mapping & alignment service is both affordable and effective.
Other leading programs cannot readily fit your scope, sequence, and pacing. This misalignment reduces efficacy and increases teacher burden. So say goodbye to one-size-fits-all!
It's a Cinch to Implement
With the mapping & alignment service, Speak Agent takes care of all of the heavy lifting in three easy steps:
Share your curriculum documents with us, as relevant to the program(s) you have purchased. We simply need the names of each unit, the standards covered, and your pacing calendar.
Next, Speak Agent populates your account with all the lesson sets appropriate for your implementation. We name and sequence our digital lessons to match your curriculum. See this knowledge base article for how we explain this to classroom teachers.
Each lesson is tagged with keywords and grade-level standards such as CCSS, NGSS, NGSSS, TEKS, WIDA, and other relevant standards.
Speak Agent Module
Your Curriculum
Transformations module
→
Unit 01: Rigid Transformations
Defining Functions module
Linear Functions module
→
Unit 02: Functions
Linear Equations module
Linear Systems module
→
Unit 03: Linear Equations and Systems
etc.
etc.
Premium Customization Option
Looking for highly customized content? Speak Agent's add-on customization service creates content to fit the exact concepts, learning objectives, classroom activities, or other resources that you specify. We can even develop multi-language implementations. Just let your Speak Agent Educational Consultant know that you are interested in exploring this option.