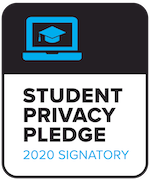 Speak Agent Privacy Policy
Last Modified: December 1, 2020
This Privacy Policy, which complies with the Student Privacy Pledge, explains how Speak Agent, Inc. ("Speak Agent" "we" "us") collects, uses, and protects your personal information in relation to the Service, as defined in our Terms of Service. Your use of the Service is conditioned upon your acceptance of the Terms of Service, which includes this Privacy Policy.
We define "Personal Information" as personally identifiable information collected or stored by Speak Agent, as well as other information collected or stored by the Speak Agent technology platform about an individual user that is linked to personally identifiable information. It includes "covered information" under California's Student Online Personal Information Protection Act (SOPIPA), Cal. Bus. & Prof. Code § 22584(i) (2020). It does not include de-identified information.
PRIVACY PRINCIPLES
No advertising. Speak Agent contains no display advertising, behavioral advertising, or product placement for either free or paying users. We do promote the premium version of Speak Agent for users logged in as an Educator Member (as defined in our Terms of Service) or, in certain cases, to unregistered users coming from third-party websites. We do not target any marketing, ads, or promotions to students whatsoever.
No exclusion. No one is excluded from using the Service for not providing Personal Information, except to the extent that basic directory information is required in order to create an account on the Service. Such information is needed in order to verify and authenticate users, as well as to provide accurate reports, which are an essential benefit of the Service.
Shared educational content. The Service enables Educator Members to find or create educational content to share with students and other Educator Members. Such content does not include any Personal Information and its use is governed by our Terms of Service.
Data retention and deletion. Speak Agent will retain your Personal Information and your students' Personal Information for as long as your account is active, unless and until you take action such as by deleting your account or making a specific request by contacting us in writing. If your account becomes inactive, meaning that no one signs into the account for more than six (6) months, Speak Agent's policy is to delete the account and all of the Personal Information contained therein. You may also permanently delete your active Speak Agent account at any time from your Account Settings. Account deletion by you or by Speak Agent will in both cases irrevocably delete from the Speak Agent database all Personal Information collected about you (and your students). Please know that deletion does not remove anonymized or aggregated usage, log, and device data. Speak Agent makes every effort to ensure that such data cannot be used to directly or indirectly identify any individual user. In the event Speak Agent terminates the Service, it will destroy all Personal Information.
Data accessibility. As the Service is intended for institutional and not for individual or consumer use, it enables only authorized Educator Members to add, review, revise, or delete student data on behalf of the school, school district, or other educational institution.
INFORMATION WE COLLECT
Following are the types of information that Speak Agent collects or stores:
Educator information. The only Personal Information we require to create a Service account for Educator Members is directory information: name, school/organization, job title, and email address. This enables us to verify that you are an Educator Member and to communicate important information needed for account security. Optional information you can enter into your profile may include the language(s) you teach, a biography, links to your social media profiles, other contact information, and the email(s) of any person(s) you wish to invite to use Speak Agent.
Student information. Speak Agent does not and will not collect, store, use, or share student Personal Information beyond that needed for authorized educational/school purposes, or as authorized in writing by a parent or legal guardian. Furthermore, Speak Agent does not collect Personal Information directly from students, except for certain Student-Generated Content for the purposes of evaluating program performance or providing evidence of learning. Personal Information is otherwise provided by authorized decision-makers at the students' academic institutions (e.g., Local Education Agency) and/or by Education Members, who may create student sub-accounts using the Service. Personal Information may include first name or nickname, last initial, surname, student ID, student or parent/guardian email address, ELL/LEP designation, and certain academically useful information such as course enrollment, class section, grade level, and home language. Student ID/email are used solely as unique identifiers for authorized educational/school purposes and are only required if no alternative unique identifier is available. Students are never contacted directly without express written permission in advance.
Program performance data. Speak Agent collects and stores in-app student performance such as accuracy scores, academic concept knowledge, and learning progress. As a language learning program, it also collects and stores student-generated content, including student writing assignments, open-ended responses, and speech recordings ("Student-Generated Content"). Such content is accessible solely by authorized Education Members, students, and their parents or legal guardians and used solely for authorized educational/school purposes.
Usage information. Speak Agent tracks de-identified data about the frequency, duration, and timing with which Service webpages, features, wordlists, lessons, words, and other items are used. These data are aggregated for the purpose of providing general statistics about use of the Service and do not include Personal Information.
Log data. When you use the Service, we record certain log data, including information that your browser typically sends whenever you visit any website. This log data may include your Internet Protocol address, the URL of the originating web page, your browser type and settings, the date and time of each visit, information about your browser configuration, language preferences, and cookie data. To the extent log data may include any Personal Information, such data are anonymized so that any link to personally identifiable information is removed.
Device information. Speak Agent may collect information about the type of device you are using to access the Service, including hardware type, operating system, device settings, and crash data. The device information we collect depends on what type of device you have and its settings, but in no case does it include Personal Information.
HOW WE USE COOKIES
Speak Agent uses cookies, or similar technologies like single-pixel gifs and web beacons, to record log data. Cookies are small text files sent by us to your computer and from your computer to us each time you visit our website. They let our website remember information about your prior visits. Cookies are unique to your Service account or your browser. We use both "session-based" and "persistent" cookies. Session-based cookies last only while your browser is open and are automatically deleted when you close your browser. Persistent cookies last until you or your browser delete them or until they expire. Some cookies are associated with your account in order to remember that you are logged in. Other cookies are not tied to your account, but allow us to understand how the Service is used.
HOW WE USE THE INFORMATION WE COLLECT
Speak Agent may use your information for the following purposes:
Providing a secure Service. We use information you provide to enable you to sign in and securely access the Service and the data therein. We may also use it to verify that you are who you say you are, thus protecting students.
Facilitating collaboration. The Service enables Educator Members to share educational content. Educator Member public profile information may be accessible to other Educator Members to facilitate this.
Preventing abuse. The data we collect helps us to avoid inappropriate content, spam, or other abuses and to keep your experience (and that of your students) safe.
Improving the Service. We seek to continuously improve the Service and use the information we collect to give us data insights.
Communicating with you. If you contact us with a Service issue, we may use your information to address it. We may also send you Service-related notices, such as if you forget your password and request a reset. We may also contact you proactively to inform you about changes to the Service, this Privacy Policy, the Terms of Service, planned or unplanned Service outages, imminent account deactivation, or other important non-marketing notices. These important notices are considered part of the Service and you may not opt-out of them. From time to time, we may also contact registered Service users about new product features or other relevant news: You may opt out of these at any time. Speak Agent's use of information for communication purposes applies only to Educator Members. As mentioned above, Speak Agent does not collect any student contact information.
HOW WE SHARE YOUR INFORMATION
Speak Agent does not share any Personal Information that you provide to us with any third parties, except as described below. WE DO NOT SELL PERSONAL INFORMATION to advertisers or to any third party.
Third-party service providers and agents. We may employ third parties to process Personal Information on our behalf based on our instructions and in compliance with this Privacy Policy. For example, we may share Personal Information with an email processing vendor to send messages on our behalf or a secure online payment processor to facilitate a payment. We may also share Personal Information with vendors and consultants, such as software developers, who perform work on our behalf specifically related to the Service, solely for authorized educational/school purposes.
Researchers. We may share aggregated or de-identified information with third-party researchers solely for research purposes. For example, we may use such data to evaluate learning outcomes, content quality, security measures, or Service feature usability or priorities.
SECURITY
Speak Agent aims to protect the information you provide to us as part of your use of the Service from loss, misuse, and unauthorized access or disclosure. When you enter Personal Information or other sensitive information, such as login credentials, we encrypt the transmission of that information using secure socket layer (SSL) technology. We follow generally accepted web standards to protect the personal data submitted to us, both during transmission and after we receive it. That said, be aware that no electronic transmission or digital storage is ever fully secure or error-free.
CHILDREN'S INFORMATION
Speak Agent does not ask or permit children under the age of 13 to enter any Personal Information. If you learn that a child has provided us with Personal Information without your consent, please contact us.
CHANGES TO THIS PRIVACY POLICY
Speak Agent may update this Privacy Policy from time to time. The latest version will be posted to this webpage, along with the date it was last modified. If any material changes were made, you will also receive a notice the next time you sign into the Service. Your continued use of the Service will be conditioned upon your review and acceptance of the modified Privacy Policy. If you have any questions regarding this policy, please contact us. You may also write to Speak Agent Inc., 155 Gibbs Street #536, Rockville, MD 20850 USA.
SUCCESSOR ENTITIES
If Speak Agent assigns your Terms of Service agreement to another entity, such as in the event of a merger or acquisition, this Privacy Policy will not be modified without your express consent. Your acceptance will be obtained in the same manner as changes to the Privacy Policy made by Speak Agent, as outlined above.