Academic Language Drives the Achievement Gap
The gap continues to widen for marginalized learners throughout their academic careers.
School Is Not a Level Playing Field
Before 2020, there was already a significant gap in scores among Black, Hispanic, and White students. The pandemic has widened that gap. For example: The drop in scores for Black students from 2020 to 2023 was more than double the drop for White students. In addition, average scores declined by 14 points for students already in the lowest 10th percentile — a steeper decline than any other group.


Source: NAEP Long-Term Trend Assessment Results: Reading and Mathematics: Changes in NAEP long-term trend reading and mathematics average scores for 13-year-old students, by race/ethnicity: 2012, 2020, and 2023, NCES.
How Language Widens the Gap
Language matters because it is embedded in all of the math and science practices. (See table below for a math example.) The achievement gap is therefore made more difficult by a similar language gap. Black students, for example, average 27 points lower on the NAEP Reading test at 8th grade than White students. Non-standard versions of spoken English are often treated sub-standard or wrong. As ESL and STEM teachers — and as multilingual learners — Speak Agent team members have personally encountered the inequities in academic language proficiency, home environment, and other factors such as interrupted education, experiences with poverty, or undiagnosed learning disabilities. We know firsthand that educators everywhere face major challenges and resource constraints as they try to support each learner where they are.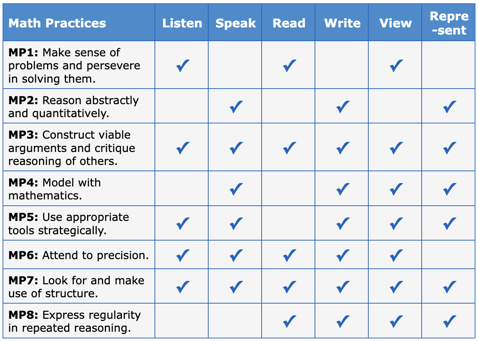 The truth is that academic language is no one's home language. All learners need support in listening, speaking, reading, writing, viewing and representing communication modes throughout math and science!
Learner Variability and Academic Language
Learner variability describes each student's unique set of abilities and experiences that impact her or his learning within an education model that was originally designed for standardized mass instruction. As our friends at Digital Promise like to say, learner variability is now the rule, not the exception. The proportion of students with significant learning differences now likely exceeds 40% of all learners (Digital Promise, 2016). This growing population includes multilingual learners, students who experience poverty, students of color, students with learning differences, and students with interrupted education and trauma. These historically marginalized learners face even higher barriers to acquiring the crucial language of content than the general student population does. Today these students are profoundly underserved.
 They need additional multisensory supports and engaging interactivity that make academic content and concepts more accessible, reduce cognitive load, develop confidence and self-reflection, foster a growth mindset, and that apply effective learning strategies.
Speak Agent Helps Close the Achievement Gap
Our mission is to ensure that each student, regardless of her or his learner variability, masters the content language and concepts critical to success in school and careers. That's why we developed the Content+Language learning model to feature learning scaffolds for the full diversity of learners. We developed 36 research-based strategies and supports in collaboration with cognitive scientists and language acquisition experts at Digital Promise, WestEd, and Teachers College, Columbia University. These are embedded in every digital module of our Math+Language and Science+Language programs.