Academic Language Drives the Achievement Gap
The gap continues to widen for marginalized learners throughout their academic careers.
School Is Not a Level Playing Field
"The most accurate predictor of school success is the size of a child's vocabulary at age five of 'book' words," according to a report by the Joan Ganz Cooney Center (Gee, 2008). These "book words" are the academic vocabulary learners need to know and understand to meet their potential in school and beyond. Children who do not hear English spoken at home or whose parents do not read to them, for example, rarely hear the words that matter in core content areas like ELA, Math, and Science. Students whose parents have not graduated high school or college, can also be at a disadvantage in school due to the lack of recognition of academic language.
As former ESL, ELA, and STEM teachers—and as former ELLs—Speak Agent team members have personally encountered tremendous variability in language background and level, home environment, and other factors such as interrupted education, poverty, or undiagnosed learning disabilities. We know that teachers face major challenges and a lack of resources as they try to support each learner. This is made more difficult by the vast disparity between marginalized students and the general student population. Nearly two-thirds of all US students fail to achieve Proficient level on the NAEP Math, Reading, and Science tests at eighth grade. But the failure rate rises to four in five for low-SES students and 19 in 20 for English language learners (ELLs). Why?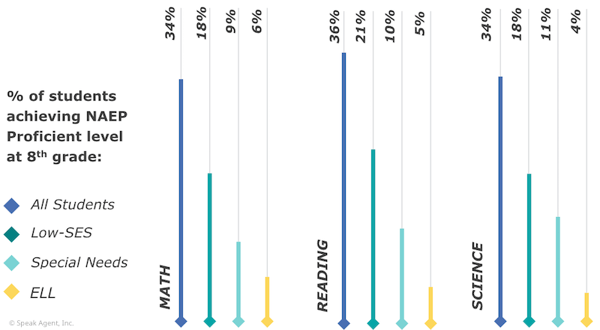 Learner Variability and Academic Language
Learner variability describes each student's unique set of abilities and experiences that impact her or his learning within an education model that was originally designed for standardized mass instruction. As our friends at R&D partner Digital Promise like to say, learner variability is now the rule, not the exception. The proportion of students with significant learning differences now likely exceeds 40% of all learners (Digital Promise, 2016). This growing population includes ELLs, students who experience poverty, students of color, students with learning differences, and students with interrupted education and trauma. These historically marginalized learners face even higher barriers to acquiring the crucial language of content than the general student population does. Today these students are profoundly underserved.
 They need additional multisensory supports and engaging interactivity that make academic content and concepts more accessible, reduce cognitive load, develop confidence and self-reflection, foster a growth mindset, and that apply effective learning strategies.
Speak Agent Helps Close the Achievement Gap
Our mission is to ensure that each student, regardless of her or his learner variability, masters the content language and concepts critical to success in school and careers. That's why we developed Speak Agent's unique learning model to feature learning scaffolds and supports for the full diversity of learners. We developed 32 research-based active learning strategies and supports in collaboration with cognitive scientists and language acquisition experts at Digital Promise, WestEd, and Teachers College, Columbia University.
Speak Agent is a unique solution that can align to any curriculum, support differentiated instruction, and personalize the learning experience. It also correlates to WIDA and other standards.
Please see our References page for a full A to Z listing of all research cited on speakagent.com.