Speak Agent's User Management feature enables school and district administrators to manage their team roles and permissions. The feature supports single sign-on, too. Exclusive to Speak Agent PRO.
Centrally manages user roles and permissions.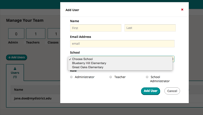 When your Speak Agent implementation team onboards your account, all your users and organizational structure will already be set up and ready to go. The User Management feature enables you to add, remove, or change users, roles, and permissions at any time thereafter.
Assigns users to organizations to ensure they see the right data.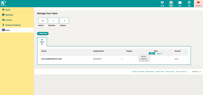 Each user is assigned an organization within the account, such as a school, cluster, or a district-wide role. Speak Agent then gives each user a custom Reports dashboard where she or he can only see the teachers, classes, and students appropriate for that organizational level.
Plays nicely with student information systems.
Use the Speak Agent User Management feature to manage all your users, or have us integrate with your system for single sign-on. Either way, Speak Agent will be there for handle roles and permissions appropriately so as to ensure data access and data privacy.