Accelerate academic language learning and English language development for your students this summer with an evidence-based, effective intervention.
Features & Benefits:
All the academic vocabulary your students need for K-12 Math & Science.
Listening, speaking, reading, and writing components integrate language & content.
Includes 36 research-based strategies to support marginalized learners.
Perfect for addressing unfinished learning among English Learners and Title I students.
Flexible to your program design & pacing: Focus on review content—or get a head start on the fall!
Measures and reports on math and science vocabulary acquisition.
Captures student speaking and writing work to provide evidence of learning.
---
Great for in-person, remote, and hybrid use. Eligible for CRRSA, Title IA, and Title III grants!
---
"We saw the need for our ELL students to develop academic language in science. Speak Agent is very well aligned with not only standards but what we are expecting students to do. Students can practice language and build background knowledge simultaneously in science."
-Dr. Carlos Negron, Lee County Schools, FL.
---
Works with ANY student device: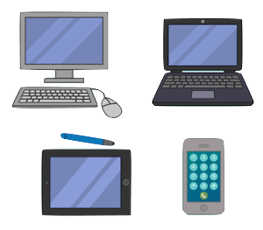 "My favorite thing about Speak Agent is the level of engagement and excitement it generates in my students. Many of them literally ask me if they can do their lessons, as soon as we transition to Science!"