Speak Agent Reading develops content vocabulary, reading comprehension, and key foundational skills.
Product Overview
Speak Agent Reading is an academic language program that improves reading performance and engagement with reading among elementary and middle-grade students. It consists of digital modules, tailored to your scope and sequence, that connect reading texts with the content vocabulary needed for comprehension. Embedded interactive learning activities also help students build decoding, morphology, sentence processing, and reading comprehension skills. Speak Agent Reading applies more than 30 research-based reading strategies to support all kinds of learners! Speak Agent Reading aligns to CCSS and TEKS ELA standards and supports ELL and multilingual learners.
Activity Examples
Read Along is a dialogic reading activity that puts new words and concepts in the context of an originally written or excerpted story tied to your curriculum content. Students read and/or listen to each page of a mini-ebook. Next, they answer a question before continuing on to the next page. Students may also add their own notes. Anything they write is saved to their digital portfolio, which authorized teachers may access. Read Along develops comprehension through reading and listening to authentic content. It prompts students to apply words and concepts by answering contextual questions. And, it encourages reflection on the text through open-ended prompts and brief free writing opportunities.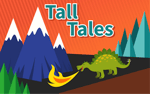 Tall Tales is an ad libs-style cloze activity. Students complete an originally written or excerpted story by choosing words and phrases to insert into the story from a word bank. Each gap in the story requires a word or phrase that both fits into context and matches a specific category, such as a part of speech. Each word or phrase also has audio support and a visual aid. Students may listen to the story at any stage of the activity. Then, after all blanks are filled, the game provides corrective feedback and clues so that students may fix their mistakes. This helps to reinforce context and provides decoding support.