English Language Arts Toolkit
Speak Agent ELA builds concepts and content vocabulary through listening, speaking, reading, and writing.
Overview
Speak Agent is a research-based digital teaching tool that accelerates learning the core content and concepts. Just 30 minutes of use per week has been shown to accelerate STEM and ELA concept mastery by 210%. Speak Agent consists of easy-to-implement modules that are tailored to fit your scope, sequence, and pacing. They also align to CCSS and TEKS ELA standards and are offered in multiple languages. Each module consists of digital lessons and interactive learning activities that integrate reading texts with the language needed to understand it.
Toolkit Description
Speak Agent's ELA toolkit includes a set of interactive learning activities that connect the concepts and related vocabulary with authentic classroom content. Along the way, they help students with decoding, morphology, reading comprehension, and even sentence building. Our digital solution applies more than 30 research-based reading strategies to support all kinds of learners!
Two Activity Examples
Read Along is a dialogic reading activity that puts new words and concepts in the context of an originally written or excerpted story tied to your curriculum content. Students read and/or listen to each page of a mini-ebook. Next, they answer a question before continuing on to the next page. Students may also add their own notes. Anything they write is saved to their digital portfolio, which authorized teachers may access. Read Along develops comprehension through reading and listening to authentic content. It prompts students to apply words and concepts by answering contextual questions. And, it encourages reflection on the text through open-ended prompts and brief free writing opportunities.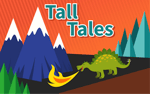 Tall Tales is an ad libs-style cloze activity. Students complete an originally written or excerpted story by choosing words and phrases to insert into the story from a word bank. Each gap in the story requires a word or phrase that both fits into context and matches a specific category, such as a part of speech. Each word or phrase also has audio support and a visual aid. Students may listen to the story at any stage of the activity. Then, after all blanks are filled, the game provides corrective feedback and clues so that students may fix their mistakes. This helps to reinforce context and provides decoding support.
Pilot Program
The pilot program is an opportunity to evaluate Speak Agent in a high-fidelity implementation that is likely to produce measurable results within 90 days. The program also includes professional learning and coaching to develop your team's use of research-based strategies and best practices in the classroom. Please schedule a call with us to discuss your goals and priorities!